Back-to-back NBA Champion Kevin Durant of the Golden State Warriors was in Manila Sunday (July 8, 2018) to push Filipinos' inner self-belief and use it as fuel to become the best in the game. During the visit, Durant trained select Hyper Court ballers to rise, grind and shine, held a short meet-and-greet with fans, and put on a show at the Araneta Coliseum called the KD Hyper Court Team All-Star Challenge. He also launched his latest signature shoe – the KD 11.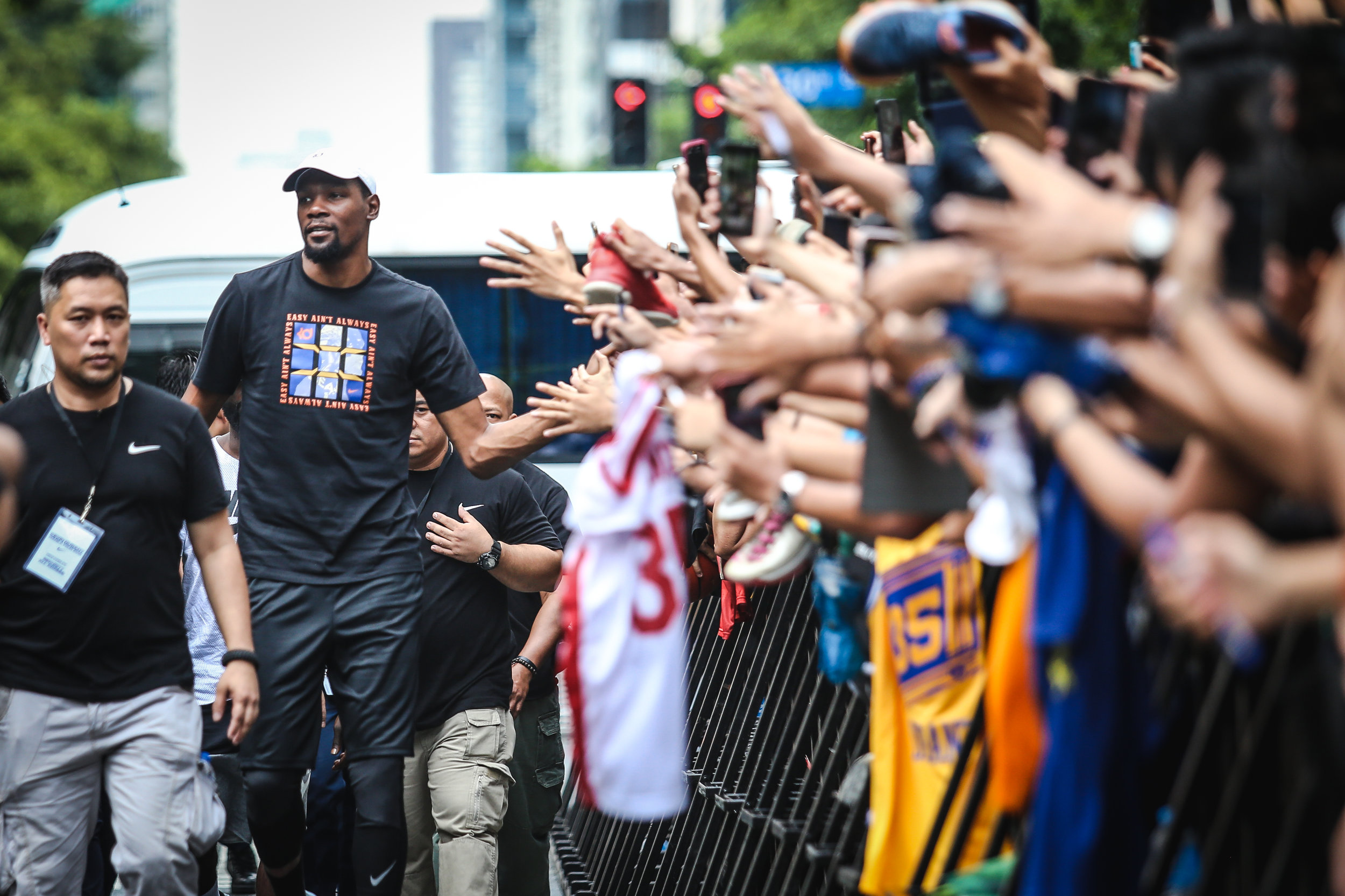 LeBron james: strive for greatness manila 2017
For the third time in five years, LeBron James gave his Filipino fans another night to remember during his Strive for Greatness Tour 2017 at Mall of Asia Arena. He also trained with Female Ballers, Media and Gilas Pilipinas at Kerry Sports, Shangri-La The Fort, BGC.
KOBE BRYANT: MAMBA MENTALITY TOUR MANILA
Kobe Bryant is back in Manila yet again and in his seventh visit in this basketball-crazy city, the basketball legend is reminded of why he has come to love the Philippines and his Filipino fans. The 37-year-old Bryant, who retired after 20 seasons with the Los Angeles Lakers in the NBA, is in town for his Mamba Mentality Tour. The five-time NBA champion met the media in a press conference before appearing in front of a big crowd at Araneta Coliseum where his legacy now hangs in the rafters of the country's most iconic sporting stage facing the "Thrilla in Manila" banner.
LEBRON JAMES, DAMIAN LILLARD
and RICKY RUBIO
In a span of a year, plenty of NBA Superstars visited Manila. Some of the biggest names were (the defending champion & finals MVP) LeBron James who visited for the Nike Rise Event, Portland Trailbrazers star Damian Lillard and Minnesota's Ricky Rubio both for Adidas Take on Tour Manila Leg.
IPTL MANILA
The Coca-Cola International Premier Tennis League (IPTL) brings together current champions, tennis legends and upcoming talent in a format that's never been seen before. Created to fulfil the increasing demand for top-level tennis in Asia, it's the first city-based professional league in the world, played in the respective countries. Four teams participated in the inaugural season that kicked off in 2014 with Micromax Indian Aces walking away as the first ever IPTL winners.
FIBA OLYMPIC QUALIFYING TOURNAMENT
The 2016 FIBA World Olympic Qualifying Tournament were three international men's basketball tournaments, each producing a team which qualified for the 2016 Summer Olympics. They were held on 4–10 July 2016 in Italy, the Philippines and Serbia. Serbia, Croatia and France qualified for the Olympics as a result of these tournaments.
ONE FC: AGE OF DOMINATION